Many summer courses are designed for young people aged 18 or under. Today, we will introduce an adult summer course organized by York University, which aims to improve the English level of participants aged at least 18 years old within three weeks and let them enjoy the summer of Canada.
The Summer Immersion Program gives you the opportunity to attend academic lectures, receive one-on-one instruction, and practice language skills on trips to some of the country's most well-known landmarks – including the famous Niagara Falls.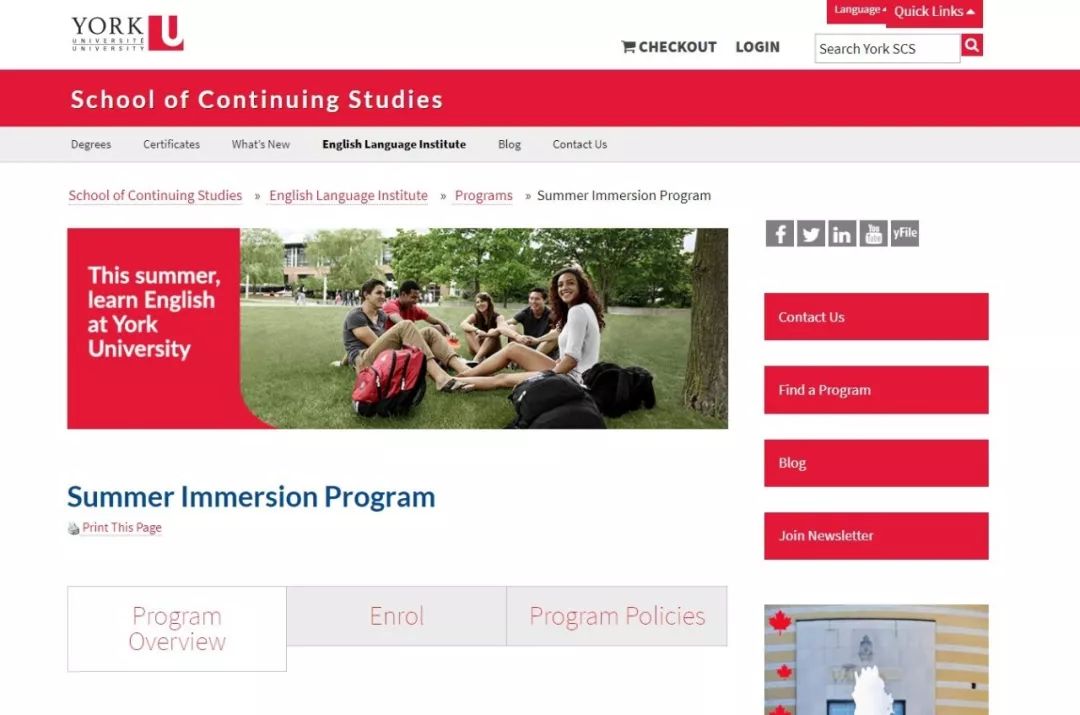 Over the course of up to a month, you will learn from qualified instructors and interact with student community leaders. The program will help you improve your ability to:
· Initiate a discussion and engage in conversation
· Express yourself more confidently and clearly
· Conduct informal/formal individual and group presentations
· Listen for general and specific information and in various contexts
· Discuss experiences and ask questions about the experiences of others
Students have access to the computer labs, libraries, athletic facilities, and restaurants of the York Campus. During the program, students will also experience Toronto the way locals do – spending a day exploring the waterfront, watching the Toronto Blue Jays play baseball, exploring Toronto's ethnic neighbourhoods, seeing all of Toronto from the CN Tower, and getting up close to Niagara Falls. The Community Leaders, current York undergraduate students, lead many of the cultural events and will also introduce students to some of the 300+ clubs on campus. There's always plenty to do at York!
Summary
Program length: Up to 1 month.
Two sessions per summer: one in July, one in August
Class size: 16 students
Classroom hours/week: 34 hours of instruction and activities
Admission Requirements
Previous education: High school graduate
You're at least 18 years old*
* If you're under 18, you still may be eligible. Contact the York University English Language Institute to confirm.
Some of the Topics Covered:
· Canadian Culture
· Multiculturalism in Canada and customs around the world
· Expressing needs and making requests
· Discussing problems and solutions
· Celebrities and pop culture
· Discussing hypothetical situations
· Canadian and global current events and issues
For more information, please visit: http://continue.yorku.ca/english-language-institute/programs/summer-immersion-program/?tab=1
Recommendated articles:
1. Detailed analysis of the 2019 Canadian summer camp big collection and eight advantages
2. Great news! Canada extended the post-graduation work permit (PGWP) application period, from 90 days to 180 days!
3. 10 websites looking for volunteer work
4. The latest statistics on the proportion of international students in Canada's universities!
5. The latest ranking of Maclean's Magazine 2019! Canada's top ten majors and rankings announced!