When entering the country, you may have noticed that all major international airports have self-service machines for customs clearance. Today, we wil introduce some of these self-service kiosks in detail.
1. English name of customs clearance self-service machine
The full name of the customs self-service machine is called Primary Inspection Kiosk, referred to as Kiosk, which can provide multi-language services.
2. Use of Kiosk
Kiosk can be set up at major international airports in Canada to facilitate passengers to quickly clear customs
3. Who can use Kiosk
Most Canadian residents and foreigners
4. Who cannot use Kiosk
- The travel document machine held cannot be read
- minors without accompanying persons
Kiosk is not suitable for people who can go to the counter with customs officials to queue up for customs clearance.
5. How to use Kisok
Steps
1) Scan your travel documents
2) Taking pictures
3) Confirm fingerprint (applicable to passengers who have applied for a visa before entering the fingerprint)
4) Answer the question and complete the declaration
5) Hand over the receipt generated by kiosk to the customs officer
Note: If you live at the same address, you can use a Kiosk with five people.
6. Electronic Declaration App (eDeclaration APP) for Kiosk
The official website of the Canadian Immigration Service has developed an electronic filing application for Kiosk, which is applicable to both Apple and Android systems. The small partners can download the free app to the mobile phone before entering the customs to fill in the declaration information in advance, so as to avoid the embarrassing situation that will not answer certain questions when filling out on the spot.
The official website of the Canadian Immigration Bureau e-filing APP download is as follows:
https://www.cbsa-asfc.gc.ca/new-neuf/app-eng.html
7. How to use the eDeclaration app
Before arriving:
1) Download the app to your phone
2) Create your personal information
3) Select "My Declaration" and answer some questions to generate a QR code
After arriving in Canada:
1) Scan this QR code in front of the Kiosk machine
2) Scan your travel documents, take photos, and confirm the report information displayed on the screen.
3) Hand over the receipt generated by Kiosk to the customs officer
8. Where can I find Kiosk?
Available at major international airports in Canada, including international airports in Vancouver, Calgary, Edmonton, Winnipeg, Toronto, Ottawa, Montreal, Halifax, etc. Need to pay attention to Toronto Pearson International Airport only has Kiosk in Terminal 3.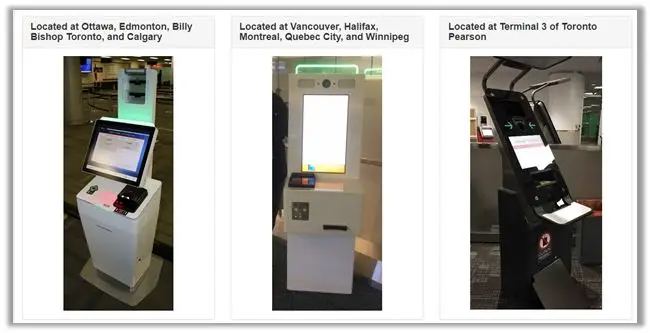 9. Summary of customs declaration issues
If the airport you arrive does not have a Kiosk, the crew on the plane will send a paper declaration card to the passenger. But no matter you use an electronic filing or a paper declaration card, everyone will answer a series of questions. The problem is shown in the figure below and has been translated into Chinese. The Canadian immigrant Xiaobian wants to remind everyone that if the passengers bring more than 10,000 Canadian dollars, they must declare, and will not incur any expenses. If they report or not report, they will be found to be fine.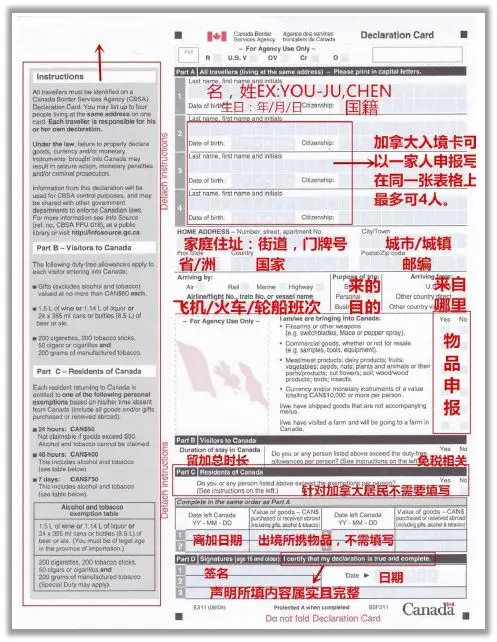 10. Stamps rules
1) Canadian customs officials usually do not cover the entry stamp for visitors using Kiosk
2) If you want to stamp as evidence of your entry into Canada, you need to go to the customs officer to seal after using Kiosk to complete the declaration.
3) If you do not have a stamp on your passport, you will default to a 6-month stay in Canada. If the passport expires less than 6 months, it can be stayed in the country for the longest period before the passport expires.
4) Customs officials have the right to decide how long you will stay in Canada, maybe less than 6 months and maybe more than 6 months. If this happens, Customs may issue you a document or you The passport stamp page states when you must leave Canada.
We hope that this article will help friends who are not sure about the process. Welcome to ask more information about immigration and study abroad.