Last week, the EE invitation score for Ontario Skilled Trades immigration program surged to above 410, which made many s who were planning to realize immigration through this project into panic! Looking at the current Canadian federal immigration policy and provincial immigration policies, we can find that the Canadian provinces (BC, Ontario, and Quebec) have increasingly higher thresholds for immigration conditions, and fewer and fewer qualified applicants. Even international students are no exception.
It is not impossible to apply for immigration to stay in the popular provinces of BC, Ontario, and Quebec. It just means that applicants need to meet higher requirements. This time, the surge in EE scores of skilled workers in Ontario can see this phenomenon.Today, ECanadaSchool will summarize a few types of solutions for everyone, hoping to help our friends who have just reached EE scores of 400 to find a way out.
Solution 1: Apply for LMIA
Those who are already working in Canada can find an employer to help them apply for LMIA. The LMIA, also called Labour Market Impact Assessment, is a long-term job offer from a good employer. LMIA is a certificate approved by the Employment and Social Development of Canada (ESDC) (similar to the well-known Human Resources and Social Security Agency in the country), and the conditions for review and issuance are very strict.
However, for applicants who have obtained LMIA, the positions in NOC 0, A, B, and EE points will immediately increase by 50 points! For positions that are NOC 00 (Senior Management), EE points can add up to 200 points.
Solution 2: Improve English performance
Isn't this a topic everyone knows? But how to improve the language performance valuablely is what we want to say!
The EE system scores individual language scores instead of total scores. The four individual items of listening, speaking, reading and writing correspond to different CLB levels, and obtain different EE scores. You can see a single applicant, who can get a maximum of 136 points in the first language! .

Many friends think that IELTS can get the highest score in language only when it reaches the full score, but in fact we take a look at the highest level of CLB10 scores, corresponding to the IELTS score:

Of course, everyone knows that this score is very difficult to achieve. Some excellent English friends can achieve listening 8, reading, writing, and speaking 7. In fact, the scores in the system are quite good. After all, 3 7, 1 8 , Equivalent to CLB 9, CLB 9 in addition to good English scores, there will be extra points in the cross-scoring section.
Solution 3: increase work experience
If there is only one year of work experience in Canada, adding another year of Canadian work experience to two years will also increase the EE score significantly.
If the work permit is about to expire and the EE score is still not enough, Canadian and American immigrants suggest that you return to your country to work and get overseas work experience as soon as possible to get a more effective way to increase your points.

The EE scoring system shows that two years or more of Canadian work experience plus one year of overseas work experience can add 25 points; one year of Canadian work experience plus one year of overseas work experience can also add 13 points. Therefore, it is also valuable to go back to be a white-collar worker in the motherland.
Solution 4: Enhance your academic experience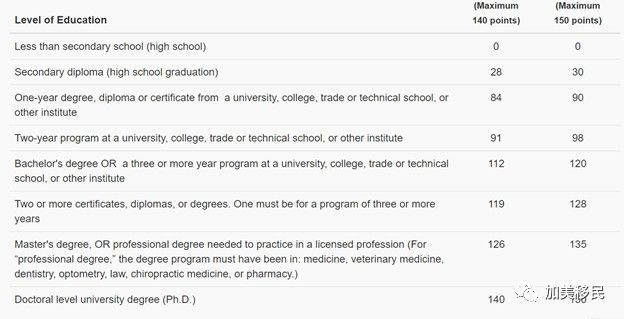 Applicants with two or more certificates, diplomas, degrees can earn 7 points. Therefore, if you have only one degree, you can choose to read another year of government-recognized certificate program, which is also a good way to effectively increase your score!
For example, if you currently have a degree or diploma from University or College (more than three years) in Canada, the EE system education level is 112 points. And you apply for a one-year post-graduated certificate program. Normally, you can graduate in 8 months. After graduation, your EE score is 119. 8 points in 8 months! !!
However, the premise of using this trick is that you currently only have one degree or diploma. If you already have two degrees, you cannot use this trick.
Solution 5: Apply for provincial nominated employer sponsored immigration
Many Canadian provinces have their own provincial nominated employer sponsored immigration programs. For example, if you work in Ontario, you may consider an Ontario employer-sponsored immigration program. Ontario employer-sponsored immigration programs are also divided into three categories:
1. Foreign worker
2. International students
3. In-demand Skills
Among these three types, Canadian students can apply for the International student with job offer category within two years after graduation; those who have graduated from Canadian institutions for more than two years can apply for the foreign worker category.
All employers under the Ontario Employer Sponsored Migration Program need to meet the following conditions:
1. Must have at least 3 years of commercial activity;
2. At least 1 million Canadian dollars in turnover in the most recent financial year (most GTA regions) / or 500,000 Canadian dollars (mostly outside GTA);
3. Have at least 5 full-time employees (GTA region) / or 3 full-time employees (outside GTA);
Job Offer requirements from employers in this category:
1. Must be a permanent and full-time position
2. Job Offer positions need to be: foreign labor and international student categories, the positions must be NOC0, A, B; jobs in short supply categories, specific agricultural and construction industry NOC C, D jobs are also available;
3. Meet Ontario's wage requirements;
4. Position is necessary for the operation of the company;
Note: If the applicant is currently living overseas, or holds a visit visa, or works in another province, the employer needs to advertise for employment to prove the recruitment effort;
1. Employer Job Offer - Foreign Worker-Closed
Applicants need to first obtain a Job Offer from an Ontario employer:
1. Full-time long-term job offer, positions in NOC0, A, B;
2. Meet Prevailing salary (medium salary);
And the applicant needs to:
1. At least 2 years of relevant work experience in the past 5 years; work experience can be accumulated, but it needs to be consistent with the job offer offered by Ontario employers;
2. If the occupation is a regulated industry in Ontario, a corresponding qualification certificate is required;
3. You can live abroad when you apply, but if you are in Canada, you need a valid work visa, student visa, or tourist visa;
Our comments: This category is mainly for overseas applicants. It requires 2 years of relevant work experience, but there are no specific requirements for academic qualifications; it belongs to the traditional provincial nomination category and does not participate in scoring. The employer's qualifications, the positions offered and the applicant's previous experience are more important;
2. Employer Job Offer - International Students-Closed
Applicants need to first obtain a Job Offer from an Ontario employer:
1. Full-time long-term Job offer, positions in NOC0, A, B;
2. Meet EntryLevel salary (entry salary);
Applicants need to:
1. Graduated from a regular college or university in Canada and obtained a certificate or diploma, the education system must be two years or more (if a graduate diploma program, the one-year system is also acceptable);
2. Half of the study is completed in Canada;
3. Must obtain a long-term full-time employer job offer from the employer, the position must be in the Canadian National Occupation Code (NOC) 0, A, B categories;
4. Applications must be submitted within 2 years of graduation;
Our comments: This category is mainly for international students who have completed their studies in Canada. Please note that this qualification does not have to be completed in Ontario. No previous work experience is required for this category of applicants. In addition, a job offer is sufficient for entry. If the international student is working for an employer, the employer does not need to advertise separately. Although this category does not require any work experience; For specific industries / occupations, it is more reasonable for Canadian and American immigrants to recommend that the applicant submit an application after working for the employer for at least a few months;
Solution 6: Wait for an increase in quota
Although this method is relatively passive, it can also be considered. For example, it is reported that the Ontario-nominated immigration project is expected to double the immigration quota from 6,650 to 13,300. Although this information has not been officially confirmed, increasing quotas will be a trend.
Solution 7: Go to work in another province
Since the immigration conditions of popular immigrant provinces (BC, Ontario, Quebec) are getting higher and higher, small partners who have already worked in these provinces can also consider working in other provinces. Let's enumerate the immigration policies of these provinces for international students
Alberta
Alberta's skilled migrants fall into two broad categories, AOS and EE. AOS category, full English name Alberta Opportunity Stream, applicable to Canadian students who are currently engaged in qualified professional work in Alberta; EE category, full English name Alberta Express Entry Stream. The EE category does not require a Canadian employer and is worth trying for Canadian students. The Alberta Immigration Department's launch of this project is intended to select suitable candidates for Alberta's development. If the EE applicant intends to go to Alberta for development, it is likely to be selected by Alberta to achieve rapid development. Immigration.
Operation flow
The applicant enters the EE pool first -The Provincial Immigration Department selects a suitable candidate-The Provincial Immigration Department sends a "Notification of Interest letter" (NOI) to the applicant
Which applicants are likely to receive NOI
1. Has entered EE pool
2. Indicate your intention to stay in Alberta for a long time
3. Occupations help contribute to the diversified development of Alberta's economy
4. CRS score of at least 300 points
What conditions can increase the chance of receiving a NOI
1. Have a job offer or work experience in Alberta
2. Graduated from tertiary education in Canada (including college and university graduates in Alberta and other provinces in Canada)
3. Relatives live in Alberta (including parents, children, siblings)
What conditions reduce the chance of receiving a NOI
1. EE profile will expire in three months or less
2. The applicant is engaged in the following occupations, which will also reduce the probability of receiving NOI
--Occupation belongs to "High-wage and low-wageoccupations in the province of Alberta" (career reference link https://www.canada.ca/en/employment-social-development/services/foreign-workers/refusal.html#LOC)
-Occupation belongs to Alberta OpportunityStream IneligibleOccupations list (Occupation reference link https://www.alberta.ca/ainp-selection-criteria.aspx)
-Occupation belongs to a high volume of submissions acrossall AINP streams (Occupation Reference Link https://www.alberta.ca/ainp-processing-inventory.aspx)
Saskatchewan
In-demand Skilled immigration in Saskatchewan is a very popular skill immigration project in the near future, because it can eliminate the need for a Canadian employer offer. It is not only suitable for overseas applicants, but also suitable for Canadian students. The Immigration Department of Saskatchewan ultimately needs to determine candidates through comprehensive scoring.
The Worker with Saskatchewan Work Experience Application (SINP) is also suitable for local Canadian students. Local students in Saskatchewan can apply for Saskatchewan immigration after getting a qualified joboffer after graduation. International students from other provinces can choose to work in Saskatchewan for six months before applying for Saskatchewan experience immigration. Specific application conditions, please refer to the official website link: https://www.saskatchewan.ca/residents/moving-to-saskatchewan/immigrating-to-saskatchewan/saskatchewan-immigrant-nominee-program/applicants-with-saskatchewan-experience/students
Manitoba
There are many types of skilled migrants nominated by Manitoba. Here we focus on three categories: Skilled Workers in Manitoba, Skilled Workers Overseas, and International Education Stream.
Skilled Workers in Manitoba: Applicants currently holding temporary work permits who are working in Manitoba, including temporary foreign workers, international students who have graduated from other provinces in Canada, or work that is not on the list of short-term occupations Graduates from the province of Manitoba. Requires at least 6 months to work in a qualified job category within the province of Manitoba. For more specific requirements, please refer to the official website link: https://www.immigratemanitoba.com/immigrate-to-manitoba/swm/swm-eligiblity/
Skilled Workers Overseas is suitable for applicants from overseas skilled workers who have in-demand vocational skills and training. They have close family relationships in Manitoba and their spouses have certain language skills, training experience and work experience to find in-demand vocational jobs as soon as possible. Such applications will be given priority.
The International Education Stream is a fast track for international students graduating from the province of Manitoba. This category does not apply to international students graduating from other Canadian provinces. Need to meet certain occupational requirements (in the list of short-term occupations in Manitoba) and hold a full-time work contract for at least one year. For more specific requirements, please refer to the official website link: https://www.immigratemanitoba.com/immigrate-to-manitoba/international-education/#1
Nova Scotia
The NSNP Experience Immigration EE category (Nova Scotia Experience: Express Entry) is aimed at applicants who currently have one year of work experience in the province.
NSNP EE Experience Immigration Application Conditions
The applicant meets the following requirements:
1. Applicants need at least 1 year of work experience in Nova Scotia, and the work experience needs to be in the national occupation category NOC 0, A, B
2. Applicants are aged 21-55
3. Applicant must have at least high school education
4. Language requirements: if the applicant
5. Need to be registered in the federal EE system
The advantages of this project are also obvious. Firstly, the academic qualifications are low, the minimum required is a high school diploma, and no graduation from Nova Scotia is required; secondly, the processing speed is particularly fast (the provincial nomination part can be approved as soon as 8 days)
In summary, it is recommended that each applicant should choose a method for scoring according to their own circumstances, rather than blindly follow the trend. For more effective immigration information for international students, please contact ECanadaSchool advisory team.