Recently, the World University Ranking Center (CWUR) released the World University Rankings of 2018-2019. One hundred universities in the United States have 51 schools and four schools in Canada. Two universities in China are short-listed.
The CWUR ranking objectively evaluates the best 1000 world universities in the world through a variety of indicators such as the quality of teaching, employment of graduates, and the strength of teachers and research results.
Specific indicators are:
Quality of education (15%): Comparison of the number of university alumni who have won important international awards and the size of the university;
Alumni employment (15%): According to the comparison of the number of alumni of the CEO in the world's top companies and the size of the university;
Faculty (15%): According to the number of scholars who have won major international awards at the university;
Research results (15%): According to the total number of published papers;
Paper publication (15%): According to the number of published research papers in top journals;
Influence (15%): According to the number of published research papers in high-impact journals;
Paper cited (10%): Number of research papers cited by high frequency;
Canada has four schools in the top 100. The top ten schools in the country are:
1. University of Toronto ranked 17th in the world
2. McGill University ranked 37th in the world
3. University of British Columbia Rank 38 in the world
4. Alberta University ranked 96th in the world
5. University of Montreal ranking 110th in the world
6. McMaster University Rank 121 in the world
7. Calgary University Rank 196 in the world
8. University of Western Ontario Rank 198 in the World
9. World University of Ottawa ranks 205th
10. University of Manitoba World Ranking 231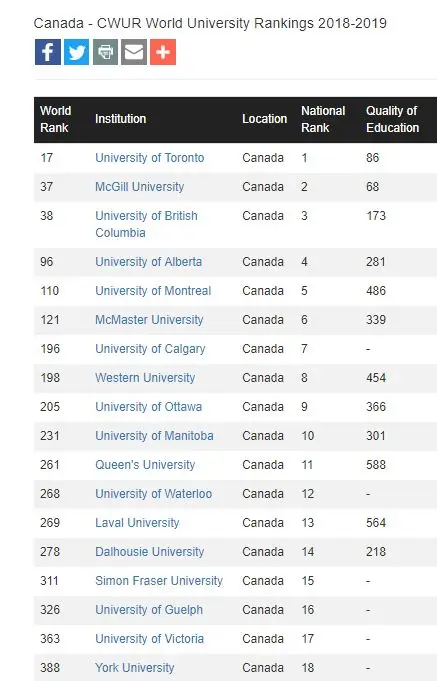 Prior to studying abroad, there were articles that introduced the top three universities in Canada. Please click this link: http://ecanadaschool.com/News/122.aspx
Among them, University of Toronto rankings of various projects: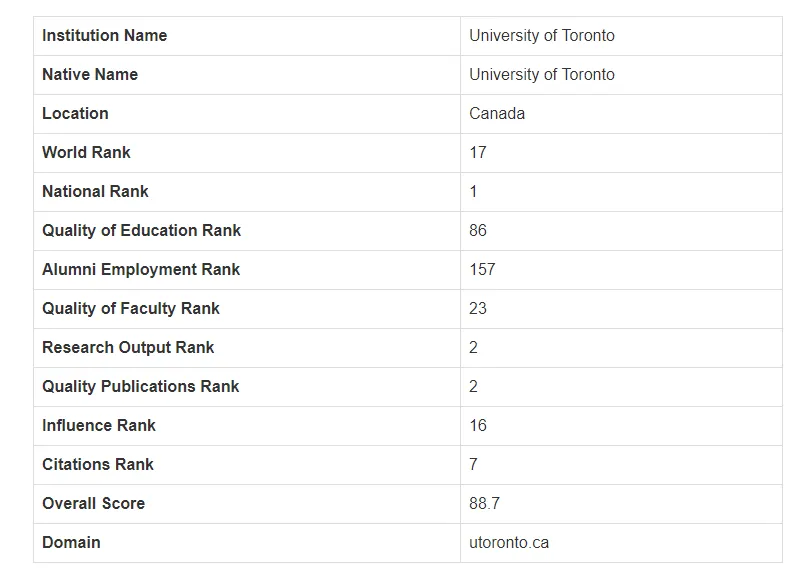 McGill University Project Rankings: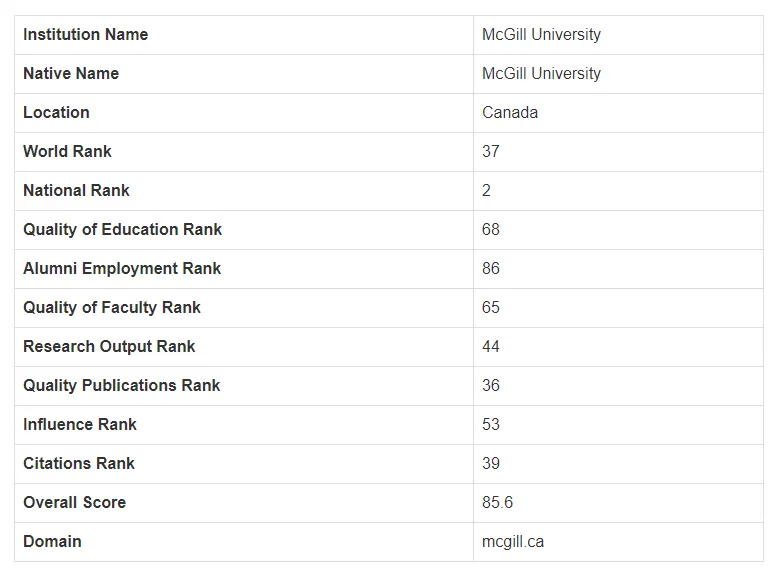 University of British Columbia rankings of various projects: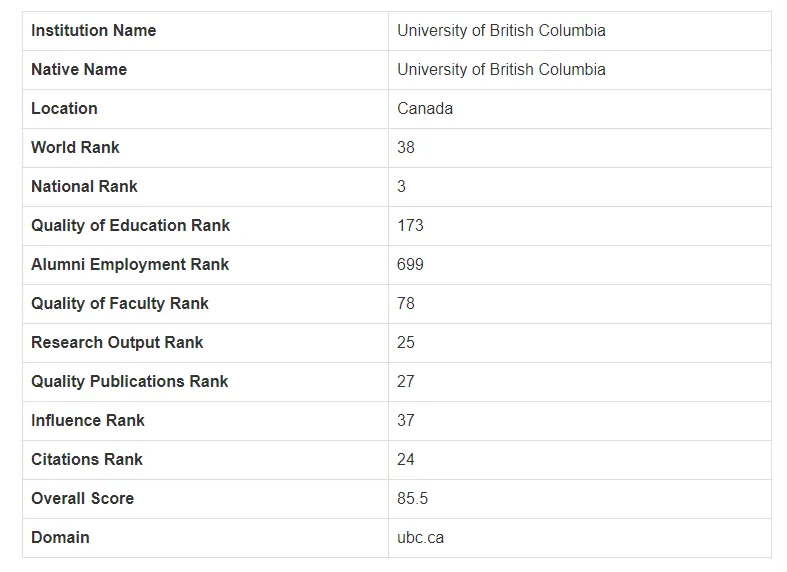 From the top ten universities, we can see that Canada's top universities are located in various provinces, including Ontario, Quebec, Columbia, Card, and Man. When choosing a school, international students can consider more provinces and prepare for migration in the future according to the projects of foreign students transferring from different provinces. Studying abroad - Immigration This road can be planned early. If you want to know the details of the resettlement projects in various provinces, you are welcome to consult with the Overseas Students Adviser.
There are 2 universities in China that are short-listed. The top 10 schools in China are:
1. Peking University ranked 92th in the world
2. Tsing Hua University ranked 98th in the world
3. Shanghai Jiao Tong University ranked 136th in the world
4. Zhejing University Ranking 157 in the world
5. Fudan University ranked 170th in the world
6. University of Chinese Academy of Sciences ranks 189th in the world
7. Nanjing University ranked 200th in the world
8. Sun Yat-Sen University ranked 202th in the world
9. University of Science and Technology in China ranks 209th in the world
10. Xi'an Jiaotong University ranked 265 in the world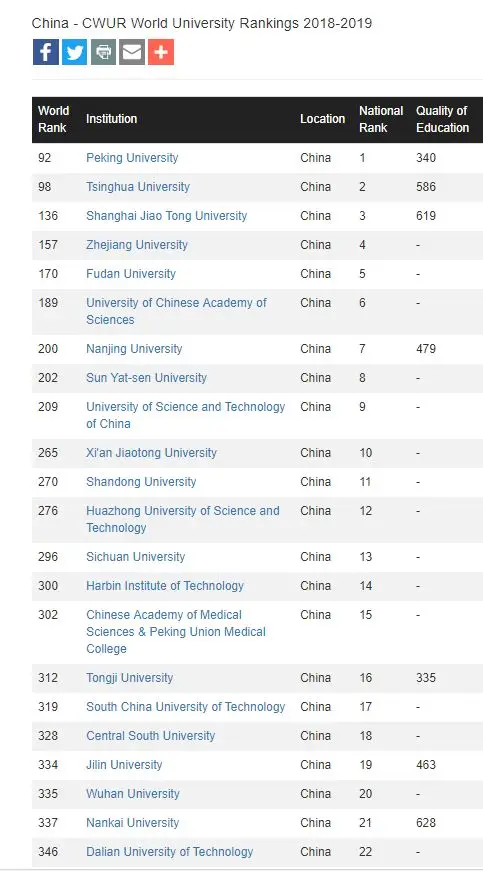 There are 51 universities in the United States. The top ten schools in the country are:
1. Harvard University ranked first in the world
2. Stanford University ranked 2nd in the world
3. The Massachusetts Institute of Technology ranked 3rd in the world
4. University of California, Berkeley ranked 6th in the world
5. Princeton University ranked 7th in the world
6. Columbia University Rank 8 in the world
7. California Institute of Technology ranked 9th in the world
8. University of Chicago ranked 10th in the world
9. Yale University ranked 11th in the world
10. University of Pennsylvania ranked 13th in the world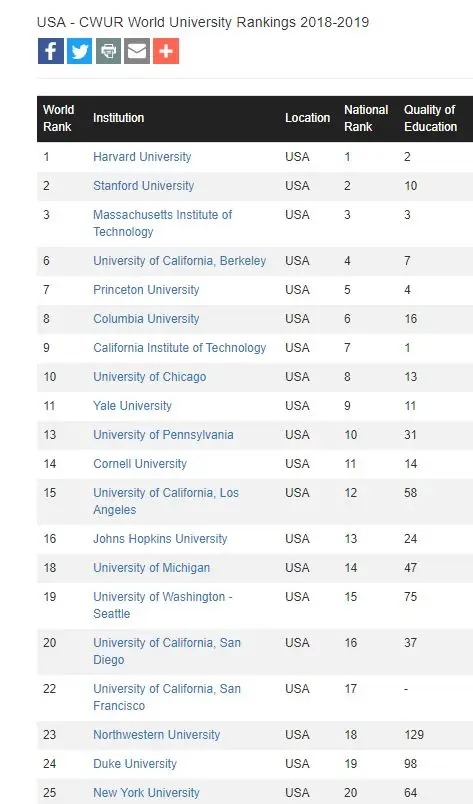 Take a look at the screenshots of the top 20 schools worldwide on CWUR's official website: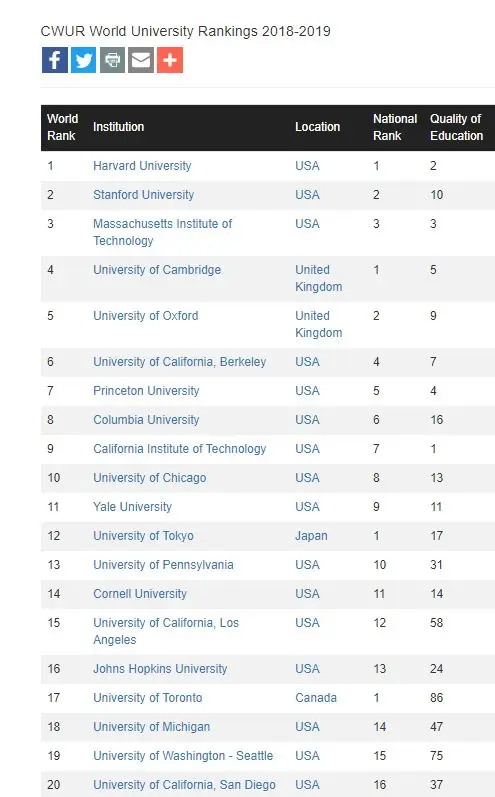 The above university ranking information is from CWUR official website, http://cwur.org/
如果想了解更多关于这个学校的资讯,请点击留学霸网址:http://ecanadaschool.com/HighSchool/69.aspx?L=brief
往期文章经典回顾,点击即可查看: