The Federal Immigration Canada issued a press release on August 19th stating that Canada recognizes the decree issued by the Venezuelan National Assembly on June 7, 2019, regarding the validity of expired Venezuelan passports.
Venezuela passport holders wishing to travel to Canada or stay in Canada may continue to use their passport if their passport expires or is about to expire less than 5 years ago.
Venezuela passport holders can use these passports to apply for a visitor visa, study or work permit, or permanent residence or extended stay in Canada.
Applicants must meet all eligibility and entry requirements to travel to Canada and remain in Canada.
The press release reminds Venezuela passport holders who wish to travel to another country to contact the embassy of the country for their specific travel document requirements.
The original picture of the official website is as follows: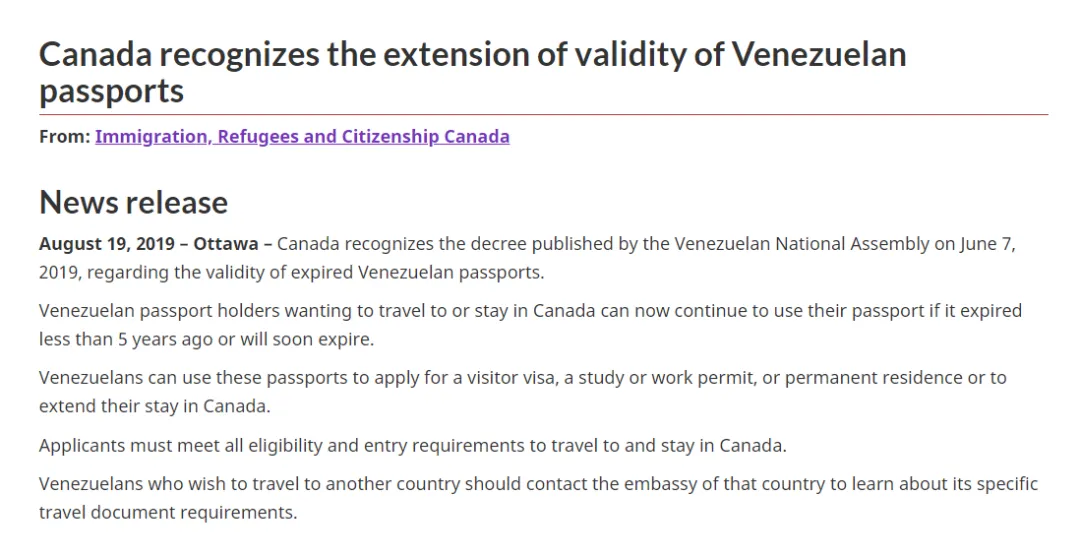 IRCC Minister Ahmed Hussen said: "Canada is still deeply concerned about the serious and deteriorating political and economic situation in Venezuela. The failure of Venezuela to renew expired passports has brought me tremendous challenges. I am discussing with members of the Venezuelan community in Canada. This is emphasized in our country. Our government is determined to continue Canada's commitment and firm support to the Venezuelan people."
The original picture of the official website is as follows: