The IRCC's press release, issued on September 6, said it began a two-year pilot program that would allow certain family members to obtain a guarantee application.
When people apply to become permanent residents of Canada, they are required to declare all family members' applications (spouse, common-law partner, dependent children), including those who do not accompany them to Canada. people.
For a variety of reasons, including lack of awareness or lack of understanding of the whereabouts of family members in conflict situations, many new immigrants have failed to apply for family members, making them ineligible for permanent residency in Canada.
To resolve this phenomenon, the IRCC Minister announced on May 31, 2019 a pilot program, a resettled refugee, a person conferred refugee protection in Canada, and a former spouse, A person who was sponsored as a spouse, partner or dependent child, will be able to guarantee undeclared immediate family members (spouse, partner or dependent child) (a spouse, partner or dependent) Child).
The trial is scheduled to begin on September 9, 2019 and lasts for 2 years. It will promote family reunification and ensure that family members who are not declared in the immigration application of their family members will not be further penalized and prohibited from entering Canada. It will also enable some newcomers to guarantee undeclared family members.
In order to maintain the integrity of the program and to ensure that the pilot program does not make the system vulnerable to fraud and misrepresentation, the IRCC limits the guarantor's eligibility, as well as those who migrate to Canada as resettled refugees, and receive refugee protection in Canada. Or be guaranteed to be an intimate family member.
Applicants must still meet all eligibility requirements and demonstrate that they can enter Canada.
The official website screenshot is as follows: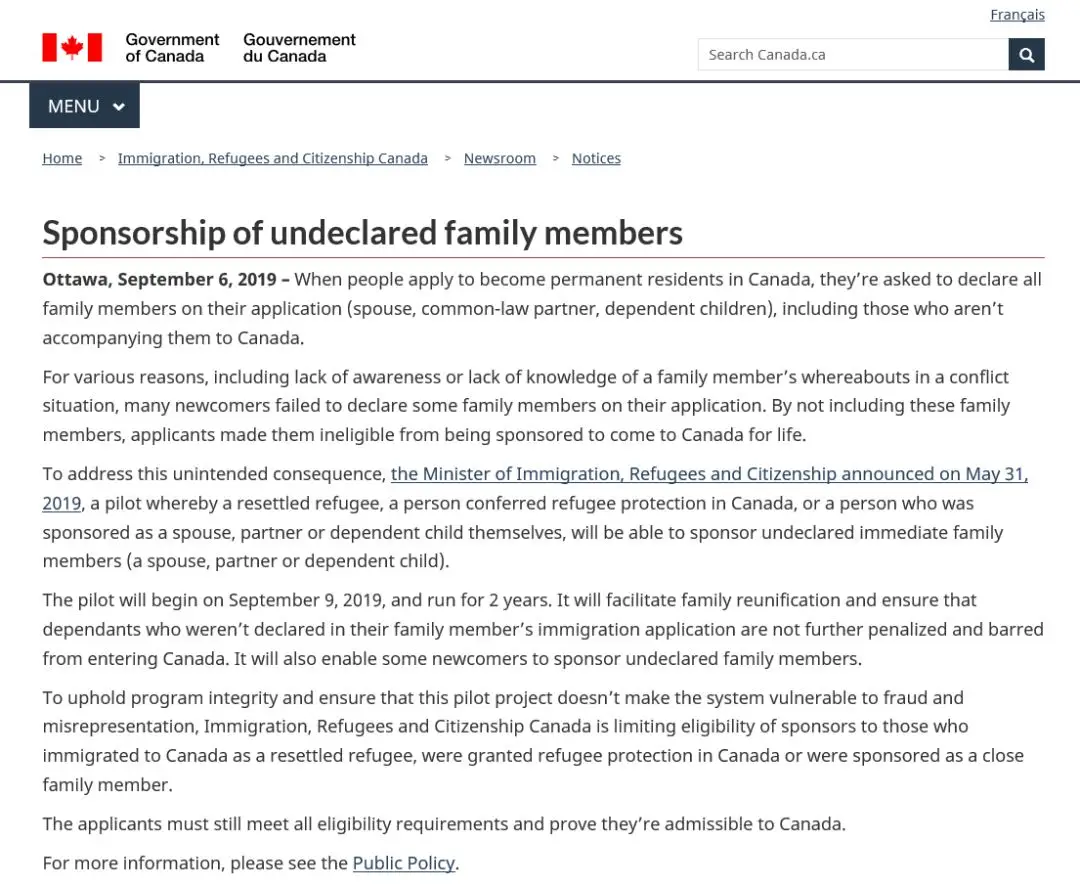 For details, please see:
Https://www.canada.ca/en/immigration-refugees-citizenship/corporate/mandate/policies-operational-instructions-agreements/excluded.html